The 11th Asia-Pacific Landfill Symposium
APLAS Bangkok 2022
Hybrid (Online and Onsite) Conference
November 8-10 (Tue.-Thu.), 2022
Grande Centre Point Hotel Terminal 21, Bangkok, Thailand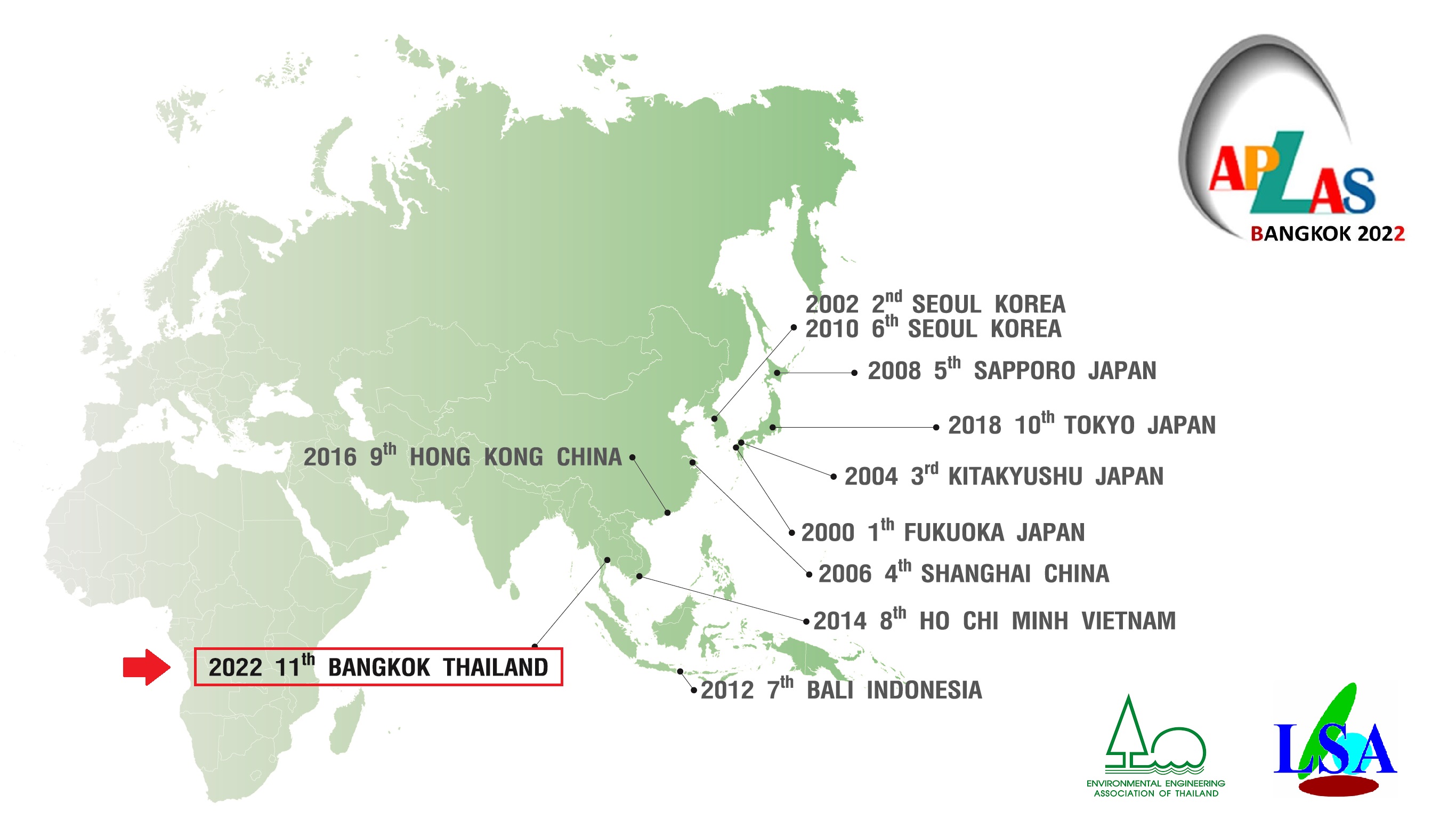 ---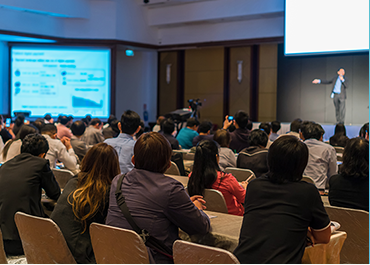 APLAS was a symposium originally established to discuss about the topics relevant to landfill issues. Recently, the APLAS has become a major international meeting in the Asia-Pacific region for the discussion of waste problems among research, policy-making and industrial communities. The role of APLAS is thus to solve waste management problems from the viewpoints of regional and global environmental sustainability.

This symposium will address the advancements and challenges in the fields of waste policy and legislation, industrial practices, waste collection and transportation, resource recycling and recovery technologies, integrated waste management (biological treatments, thermal treatments, landfilling, and landfill restoration), waste-to-energy strategies, and hazardous waste management. The official language used in this symposium is English. 
Main Session Topics
Waste management policy, planning, practices and challenges
Innovative methods for waste prevention, reduction, collection, transportation, and characterizations
Safe and reliable solid waste utilization, recycling, materials recovery, and waste-to-energy strategies
Mechanical, biological and thermal treatment technologies of waste -current development trends and technological progresses
Sustainable landfilling, landfill designs, gas collection, leachate treatments, and landfill aftercare and restoration
Bioenergy and bio-products from waste and biomass (anaerobic digestion, biofuels, biochar, landfill gas utilization, etc.)
Hazardous, industrial and special waste management (E-waste, C&D waste, medical waste, etc.)
Country reports
Engineering and Others Investigation

Download
Content of Symposium
Oral Presentations
Poster Presentations
Online Oral Presentations
Business Sessions and Exhibition 
Abstract Submission Instruction
If you are interested to present a paper, please download the abstract submission form
Submit your abstract(s) to the APLAS2022 Organizing Committee by e-mail: 

This email address is being protected from spambots. You need JavaScript enabled to view it.

 or Online submission indicating your preferred presentation type(s)

Oral Presentations
Poster Presentations


The committee will notify your submission outcome and the presentation type (if accepted)
Schedule and Deadlines 
| | |
| --- | --- |
| Abstract Submission | August 20, 2022 |
| Notification of Acceptance | September 5, 2022 |
| Full Paper Submission | September 25, 2022 |
| | |
| --- | --- |
| Status Checking | |
Publication
The papers accepted for both oral and poster presentation will be published as follows.
Business Sessions & Exhibition
Business sessions and exhibition, one of the highlights of this symposium, are available for industrial and commercial sectors operating in the areas of waste treatment and management, to share their practice and technology with participants
Naue 

is one of the world's leading manufacturers of geosynthetics with decades of experience developing and producing high-quality solutions. Our modern landfill solutions for reclamation and redevelopment of contaminated sites as well as for capping, intermediate and base sealing, protect the environment from pollution, contamination, and degradation. Our products allow significant savings in the construction process, both in terms of material procurement and construction time.

 



NIPPON STEEL ENGINEERING

is a world-leading engineering company with capabilities in engineering, procurement and construction, as well as operation and maintenance of social and industrial infrastructures. Our Waste to Energy technology have been contributing to a circular economy by recovering energy and material from thermal treatment of solid waste in an efficient and environmentally-safe manner. May our technology assist you with solving your environmental needs.


EX Research Institute, Ltd. (EXRI) is a private environmental consulting firm based in Tokyo, Japan. We have provided professional support, inter alia, in developing technical guidelines on mercury wastes under the Basel Convention. EXRI also has extensive expertise in the field of management of Persistent Organic Pollutants (POPs). We have also supported the establishment of regulatory arrangements for the management of E-wastes and provide various technical support on municipal solid waste management. 


The Hitachi Zosen Group is engaged in developing businesses in the areas of Environment, Machinery & Infrastructure. The environment segment focuses on integrated engineering, procurement, and construction of various energy-related facilities, such as energy-from-waste plants and biomass plants, and water-related facilities. We also provide a remote monitoring system for optimal operation and management, contributing to the long-term use of the facility.


Eight-Japan Engineering Consultants Inc. ("EJEC") offers highly professional consulting services from the planning, study, designing, Procurement advisory, until the Supervision of construction etc. Especially, our waste management team, as one of the leading expert teams for the consulting services on waste management in Japan, achieved over 3,000 waste management projects for the past 50 years on master planning for local waste management, FS or advisory for waste-to-energy, landfill design, Supervision of construction etc.


Since our founding in 1907, we have made it our mission to contribute to society through our business based on the principles of "Steadfast Management" and "Sincere Operations". As a comprehensive construction company, we will continue devoting ourselves to technological development, harmonizing both civil engineering and architecture, and steadily moving forward with the aim of realizing a comfortable, safe, and secure life for people; and realizing a sustainable society. 

Call for exhibitors running their booths at the venue. Please contact the Secretariat for more details
Symposium Banquet 
November 9 (Wed.)

Closing Ceremony Banquet
Presenting the APLAS on 2024 By the Next Host Country
Awarding to the Next Host Country
Dinner with the Culture Dance
Banquet is included in the registration fee, excluding student registration rate


Technical Tour
November 10 (Thu.) 

Technical trip to Sanitary Landfill Site, Transfer Station and Infectious Incinerator of BMA

-  Onnut garbage disposal plant, Prawet, Bangkok

-  Panom Sarakham sanitary landfill site, Phanom Sarakham, Chachoengsao Province

Technical Tour is included in the registration fee


Non-Technical Tour (Contact tour agency by your own expense)
November 11 (Fri.) 

Traveling Programme for Thailand Visiting (recommendation)

Root 1:  
Damnoen Saduak Floating Market, Ratchaburi


Root 2:
Ayudthaya Province (The Ancient Capital City of Thailand)


Root 3:
Grand Palace, Phra Kaew Temple, Pho Temple and Aroon Temple in Bangkok


Non-technical tour is not included in the registration fee


Symposium Venue
Grande Centre Point Terminal 21 Bangkok
2 Sukhumvit Soi 19 (Wattana), Sukhumvit Road, Klongtoey Nua, Wattana, Bangkok 10110, Thailand.


Tel: +66 2 056 9000
Fax: +66 2 056 9009
Email: This email address is being protected from spambots. You need JavaScript enabled to view it.
Registration Fees
Registration Category
Early-bird
registration


By


August 31, 2022
Full 
registration


After


August 31, 2022
US Dollar
Thai Baht
US Dollar
Thai Baht

Regular registration

400
14,400
500
18,000
Members of 
EEAT/LSA
300
10,800
350
12,600

Members of universities and institutions in developing countries

300
10,800
350
12,600

University students

200
7,200
250
9,000
* Banquet and tour are included in the registration fee, excluding student registration rate
| | | |
| --- | --- | --- |
| Additional Options | US Dollar | Thai Baht |
| Banquet dinner to add 1 person (students, spouse) | 56 | 2,000 |
Bank Transfer

Payment account :
The online registration and payment for the APLAS Bangkok 2022 is now available. An Early Bird registration fee can be made until August 31, 2022.

Bank Name

  Siam Commercial Bank

Branch

  Aree Sampan

Account Name

  Environmental Engineering
  Association of Thailand

Account

  Savings Account

Account Number

  056-2-32298-0

SWIFT CODE

  SICOTHBK
Please make the money transfer to the above bank account
After payment, please fill out the payment details and the picture of your payment slip in the form showing below
Confirmation email of registration payment will be sent to you within 7 days after payment is completed.
Organizations

Organized by

The Environmental Engineering Association of Thailand (EEAT)
The Landfill System & Technologies Research, Association of Japan, NPO (NPO-LSA)

Founder of APLAS

Professor Masataka Hanashima

Chairpersons

Professor Thares Srisatit (President of EEAT, Thailand)

Professor Kazuei Ishii (Hokkaido University, Chair of international committee of  NPO・LSA, Japan)




Secretariat

Chair

Assoc. Prof. Dr. Wanpen Wirojanagud (Vice President of EEAT, Thailand)


Associate Chair

Assoc. Prof. Dr. Chart Chiemchaisri (Technical Committee Chairman of EEAT,Thailand)

Asst. Prof. Dr. Pensri Watchalayann (Secretary General of EEAT, Thailand)


APLAS Permanent Office in NPO.LSA (Japan) Secretary General

Mr. Fumiyoshi Ohno 

Accommodation
The Grande Centre Point Terminal 21 Bangkok
Well-known for its comfort and convenience. The 5-star hotel is superbly located, with direct access to the Asok BTS station, which is also directly connected to the MRT Sukhumvit station. With its location right in the heart of Bangkok's central business "Sukhumvit" district, where the shops, dining, and businesses of central Bangkok are just moments away, the hotel is easy to get to. Airport Link Makkasan Station is only one station away by MRT. Reservation
Pathumwan Princess Hotel
Five-star hotel thrives at one of the best and most convenient locations in vibrant, cosmopolitan Bangkok – connected to the renowned MBK Shopping Mall, a short stroll by "skywalk" to Siam, the city's biggest shopping complex, and just minutes away from the iconic "Skytrain" that whisks visitors in air-conditioned comfort to Bangkok's many attractions.  Reservation

Asia Hotel Bangkok


The hotel is 32 kilometers from Suvarnabhumi International Airport. Ideally situated in Bangkok's colorful shopping, business and entertainment center. Asia Hotel Bangkok has long been popular with both business travelers and tourists. We offer excellent comfort, service and dining at the best value in town. Reservation
Contact (Secretariat)
Environmental Engineering Association of Thailand (EEAT)
Tel: (662) 617-1530-1          Fax: (662) 279-9720   
E-mail: This email address is being protected from spambots. You need JavaScript enabled to view it.    Facebook: facebook.com/EEAT2016